Elizabeth Swados, the writer, composer and director, died on Tuesday from "complications of surgery for esophageal cancer that she had undergone in April," the New York Times reported. She was 64. She was best known as the creator of socially conscious musicals--her 1978 musical Runaways, about runaway teenagers, was a Broadway hit, and some of her creations had strong literary ties. She directed and wrote the music for Dispatches, adapted from Michael Herr's groundbreaking book about the Vietnam War; created Nightclub Cantata, a revue based on work by Sylvia Plath, Pablo Neruda and other poets; and collaborated with Garry Trudeau on two theatrical social satires, Doonesbury and Rap Master Ronnie.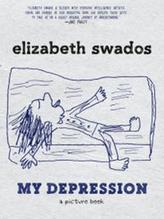 Swados was also an author whose work spanned many genres: she wrote three novels, seven books for children and two memoirs. The Four of Us: The Story of a Family was about her difficult family life (her mother suffered from depression and alcoholism and committed suicide; her brother became schizophrenic and also committed suicide). Her best-known book is her other memoir, My Depression: A Picture Book, which first was published in 2005 and came out in a new paperback edition last year from Seven Story Press. In the book, Swados chronicles her battles with depression, made all the more harrowing by her family history. She adapted the book into an animated film called My Depression (The Up and Down and Up of It), starring Sigourney Weaver and Fred Armisen, that made its debut on HBO last July.
Swados's last novel, Walking the Dog, will be published by the Feminist Press at CUNY in June. The book's protagonist, a former child prodigy, kleptomaniac and radical activist, moves to New York City after spending 20 years in prison. She becomes a dog walker, connecting more with the animals than their owners, and tries to establish a relationship with her estranged daughter, who has become deeply Orthodox.