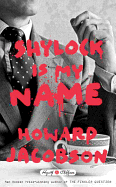 Hogarth wisely tapped Howard Jacobson to retell Shakespeare's The Merchant of Venice for its series of modern takes on the Bard's plays. Jacobson, who refers to himself as "the Jewish Jane Austen," has spent much of his career pondering Jewish identity, and does so again in Shylock Is My Name, using the spine of the play to set up dialogues that plumb questions of ownership, faith and history.

Beyond lifting the plot of The Merchant of Venice and placing it in early 21st-century England, Jacobson makes a diabolical, and brilliant, move: he brings one of Shakespeare's characters along with it. There is a modern version of Shylock (a man named Simon Strulovitch, whose daughter has eloped and who enters into an infamous bargain with a rival), but Shylock himself appears as well, the same man who was condemned to conversion and the loss of his wealth at the end of Shakespeare's play.

It's never explained how Shylock, now wearing a fedora and inserting himself into various scenes, has come to be in modern-day England (and he does not seem to be at all surprised by it), but he provides Strulovitch, and by extension Jacobson, an incredible interlocutor. Much of the book is dialogue between the two, arguing over what they are owed, and what (or who) they are loyal to. Aspects of their discussions may seem a bit esoteric, but Jacobson's wry humor and deep insight makes it worthwhile. --Noah Cruickshank, marketing manager, Open Books, Chicago, Ill.