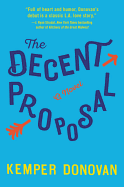 Los Angeles is the backdrop for Kemper Donovan's smart and observant first novel,
The Decent Proposal
, which asks, what would two people do for a million dollars? Sex is not part of this proposition. Rather, a mysterious, anonymous benefactor hires a lawyer to bring together two strangers, promising that they can split $1 million if they agree to spend at least two continuous hours with each other--engaging in substantial conversation--every week, for one year.
Richard Baumbach is a good-looking, down-on-his-luck film producer. Richard's best friend is Michaela (aka "Mike"), a hardworking literary manager. In college, they were a couple, but Mike ended their romance. Once Mike gets wind of Richard's moneymaking opportunity--the DP, as the "decent proposal" is called--the scenario suddenly frames Richard in a new light. Is Mike actually in love with Richard after all?
Elizabeth Santiago is the other half of the DP and the antithesis of Richard: she doesn't watch TV; she's not even on Facebook. On the fast track to partnership at her high-powered law firm, Elizabeth doesn't need the money. A loner who lives to work, she has forsaken her family and their devout Catholic faith. The DP offers Elizabeth a perfect opportunity to step outside her comfort zone.
A strong, omniscient narrator anchors Donovan's deconstructed, opposites-attract love story where emotional stakes deepen as the story unfolds. References to pop culture, classic literature and movies--along with snappy dialogue and well-drawn characterizations, especially in the cast of supporting players--infuse a clever plot filled with surprising twists that will keep readers entertained and in suspense. --
Kathleen Gerard
, blogger at
Reading Between the Lines