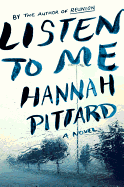 After exploring youth and family in her first two novels, Hannah Pittard (
Reunion
) turns to one of the most complicated human relationships, marriage.
Listen to Me
is a love story in which the lovers have grown detached from and circumspect around each other. In other words, it's like many marriages, where passion has worn off and the pair have settled down to the business of being together for the rest of their lives.
Mark and Maggie are driving from Chicago to spend the summer in Virginia when they're caught in a storm, forcing them to change their plans and find a place to spend the night in rural West Virginia. Having survived a mugging a few months earlier, Maggie has become withdrawn and paranoid, and Mark's little patience is wearing thin even before they begin their trip. But Pittard isn't interested in moving tension through plot. Instead, she expertly peels back the years of comfort the two have created, revealing a fraying marriage that is not equipped to deal with the force of nature it encounters.
While Pittard depicts Maggie and Mark with razor-sharp precision, foibles and all, she doesn't gawk at them. If anything, she forcefully argues that they are two sometimes-decent human beings trying to survive and be loved. It's a rare novel that expertly portrays a totally normal marriage, but
Listen to Me
also reminds readers that it's the normal patterns of a long-term relationship that allow it to survive. --
Noah Cruickshank
, marketing manager, Open Books, Chicago, Ill.