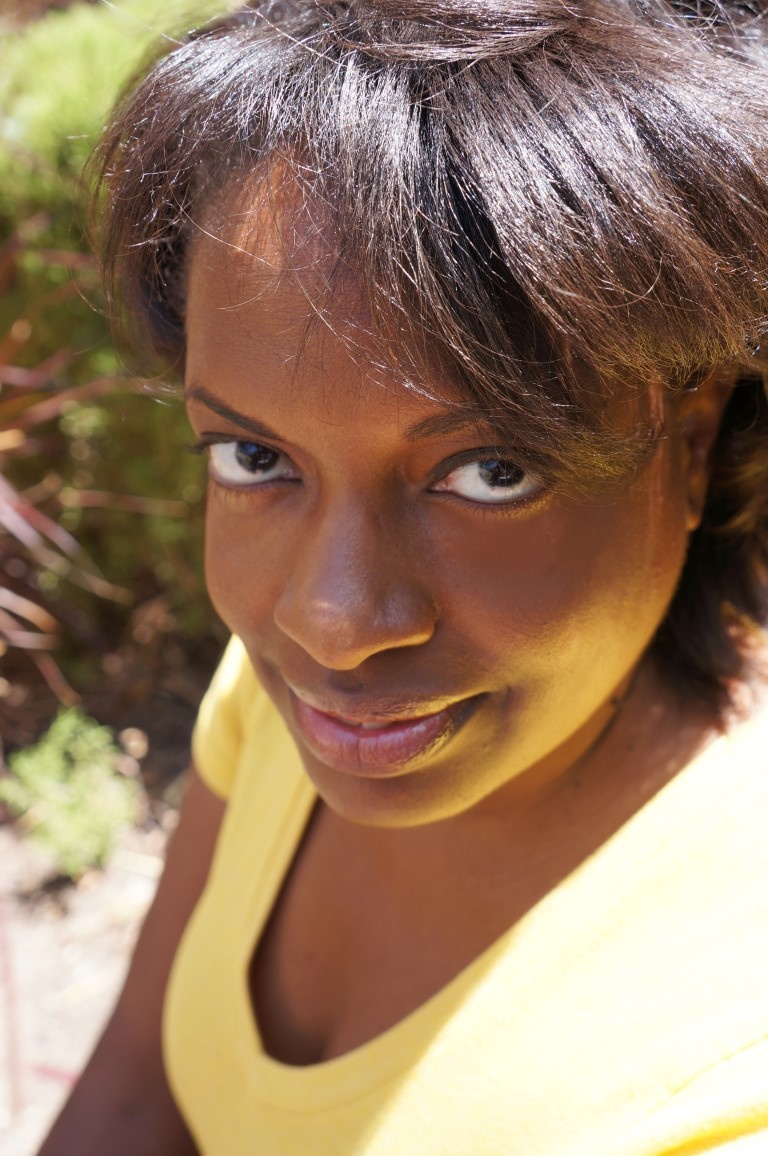 photo: Dave Hall
Rachel Howzell Hall is the author of the Detective Elouise Norton series. The third novel in the series is Trail of Echoes (Forge). Land of Shadows and Skies of Ash were included on the Los Angeles Times' "Books to Read This Summer" for 2014 and 2015, and the New York Times called Lou Norton "a formidable fighter--someone you want on your side." A featured writer on NPR's Crime in the City series, Hall also served as a mentor in AWP's Writer to Writer Program and is a member of the Mystery Writers of America. She lives in Los Angeles with her husband and daughter.

On your nightstand now:

You mean other than the four remote controls, the Xbox game controller, the tube of hand lotion, the Fitbit charger and water bottle? In paperback, The Martian by Andy Weir. I'm almost done, swear! My e-reader's also sitting on my nightstand, and the stories I'm actively reading include The Road Out of Hell by Anthony Flacco and, once I'm finished writing my last draft of City of Saviors, I'll start The Cartel by Don Winslow. Reading Winslow right now as I'm writing would leave me feeling terribly inadequate.

Favorite book when you were a child:

So many books, how to choose? Okay, Charlotte's Web by E.B. White--I've read that beautiful story over and over again, and had the chance to enjoy it as my daughter read it for class. And in my mind, Paul Lynde will forever be the voice of Templeton the Rat.

Your top five authors:

Only five, huh? Okay. Stephen King, Toni Morrison, Dennis Lehane, Gillian Flynn and Ira Levin. Bonus: Paul Beatty. A little literary, a little horror and a lot of mystery.

Book you've faked reading:

I haven't faked--I'll just flat-out say, "Yeah, I tried but nooo...." That happens with all Jonathan Franzen novels for me. I just... can't. I think I've stopped trying. Oh. Wait. In college, I fake-read Finnegans Wake after barely making it through Ulysses. College. Good times. Anyway, life's too short to fake-read when there are so many thrilling books out there waiting for my eyes!


Book you're an evangelist for:

I think every writer everywhere should and must read Stephen King's On Writing. Praise him, praise him! The genius and everyman offers practical advice as well as insight about the writing life.

Book you've bought for the cover:

I barely remember the title because I bought it for the cover. Lemme Google... it was The Boy in the Suitcase by Lene Kaaberbøl. So pretty. So haunting. It's in my library and I'll get to read it someday (which is why I don't fake read--The Boy in the Suitcase is waiting for my eyes).

Book you hid from your parents:

I remember hiding Wifey by Judy Blume deep inside my backpack in junior high. I'd just consumed Forever, which had been taken away by one of my teachers--someone had underlined the naughty parts with orange ink. After that literary adventure of discovering words that I didn't know (and there was no Google back in 1982, and the Oxford Dictionary did not have, ahem, certain words in their pages), I hustled back to the library for my next Judy Blume fix.

Book that changed your life:

Nearly every book I start and finish changes my life, even if it's a molecular shift on my brain. A ridge becomes deeper. Still, the book that really affected me was It by Stephen King. That's when I realized I wasn't the only person in the world scared of both clowns and sewers. That story spoke to my fear. I was no longer embarrassed.

Favorite line from a book:

"Open your eyes and see what you can with them before they close forever." --from All the Light You Cannot See by Anthony Doerr

Five books you'll never part with:

They'll have to pry from my cold, dead hands Charlotte's Web by E.B. White, Into Thin Air by Jon Krakauer, Beloved by Toni Morrison, The Stand by Stephen King and Rabbi Jesus by Bruce Chilton.

Book you most want to read again for the first time:

I was vacationing on the Big Island in Hawaii when I opened All the Light We Cannot See by Anthony Doerr. And even with the beautiful ocean and volcanoes and drinks with little umbrellas, I didn't want to stop reading. Can't wait to read it again!

What you would be if you were good in math:

Glad you asked! I would be an astronaut--something about being way out there in Nothing-Something intrigues and terrifies me.