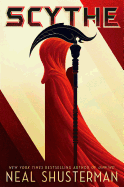 Powerhouse YA author Neal Shusterman (Challenger Deep; Unwind series) returns to futuristic dystopia with an eye-popping series debut set in a time when humans have conquered death. The "Age of Mortality" is long gone.

To prevent world overpopulation, an independent society of robe-wearing men and women known as scythes--"no more supernatural than tax collectors"--selectively "glean" human lives, bringing true death to a chosen few. Feared and revered in equal measure, scythes may also grant immunity from death. When highly respected Scythe Faraday of MidMerica chooses 16-year-olds Citra Terranova and Rowan Damisch to compete for the role of his apprentice, the unwilling teens enter a secretive world of poisons and power, killing and compassion. Though warned against developing a relationship, ambitious Citra and warmhearted Rowan strike up an uneasy rapport. When shocking circumstances see the teens transferred to new masters, Citra lands with wise and venerable Scythe Curie, while Rowan finds himself under the sadistic thumb of Scythe Goddard, who shatters the 10 Scythe Commandments at every turn and leads his minions on killing sprees. Pulled into different spheres, Citra and Rowan must battle corrupt influences threatening to tear apart the scythehood.

Fast-paced and provocative, this plot-driven dystopian thriller will capture the imaginations of readers 12 and older. The action scenes deliver, and the gallows humor--a group of scythes is called an "elegy"--strikes the perfect minor chord. Where Scythe truly sets itself apart, however, is with its deeply felt moral quandaries and meditations on life and death that are sure to spark fascinating conversations. --Jaclyn Fulwood, lead librarian at Del City Public Library, Okla.