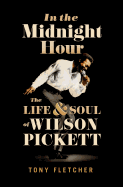 "Wicked," the nickname of the shouting, screaming soul and R&B singer Wilson Pickett, was no mere publicity handle trading on the near rhyme with his name. Pickett deserved it. Growing up the hard way as a descendant of Alabama sharecroppers, he moved north to Detroit at age 15 to live with his father after a youth of truancy, schoolboy fights and Baptist gospel singing. Longtime music journalist and rock biographer Tony Fletcher (All Hopped Up and Ready to Go; Moon: The Life and Death of a Rock Legend) chronicles Pickett's career arc of fame, fortune and a hard fall in his illustrated biography of this quintessential "soul man."

With his good looks, strong voice and perfectionist drive, Pickett got his break in the '60s, with Eddie Floyd's the Falcons, which showcased his ability to shout on key and pump up a crowd. When Jerry Wexler at Atlantic Records signed Pickett, his career took off. He hit the jackpot with what Fletcher calls "the early trifecta" of "In the Midnight Hour," "Land of 1000 Dances" and "Mustang Sally." The latter two illustrate his success with covers, his "riotous, raucous, damn-near Pentecostal" delivery turning them into wildly popular, get-up-and-dance funk.

Inducted into the Rock and Roll Hall of Fame in 1991, by the mid-2000s Pickett was broken from years of hard living. At his funeral in 2006, the gospel-trained eulogist sang the refrain from "Land of 1000 Dances," and the crowd of family, fellow musicians and friends joined in with a rowdy chorus of "Na, na-na-na-na, na-na-na-na-na-na-na-na"--a fitting tribute to a man who helped put soul music on the map. --Bruce Jacobs, founding partner, Watermark Books & Cafe, Wichita, Kan.