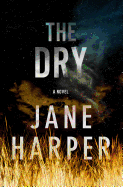 Desperate times call for desperate measures, but could a tenacious drought and economic hardship drive Luke Hadler to murder people he loved before killing himself? Australian author Jane Harper turns up the heat in her accomplished debut mystery, The Dry, filling the arid atmosphere with blistering tension.

Unlike many in the Australian farming community of Kiewarra, Luke's father doesn't accept a murder/suicide theory. He writes to Luke's childhood friend Aaron Falk, a federal agent in Melbourne, leaving no room for refusal: Luke lied. You lied. Be at the funeral.

Falk is as reluctant to return as the town is to receive him. Decades earlier he was driven from Kiewarra following the death of Ellie Deacon, one of the "gang of four" school friends consisting of Luke, Falk, Ellie and Gretchen Schoner. Tied to Ellie's demise by a mysterious note, Falk escaped prosecution only through Luke's alibi.

Ellie's death remains unsolved, and Falk is still thought by many to be her murderer. While he and new local cop Greg Raco examine the Hadler deaths, escalating harassment makes it clear Falk's presence is a threat, Luke's old alibi is coming unraveled and someone is afraid of long-buried secrets.

Threading present with past, old death with new, Harper pits a determined Falk against the town that turned on him. A taut investigation in a harsh environment written with clarity and skill, The Dry is a thrilling procedural that pays off on every level. --Lauren O'Brien of Malcolm Avenue Review.