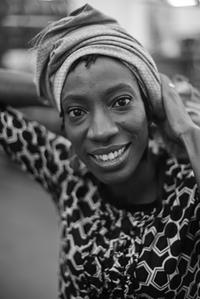 photo: Victor Dlamini
Yewande Omotoso was born in Barbados, grew up in Nigeria, and moved to South Africa with her family in 1992. She is the author of Bom Boy, published in South Africa in 2011. She won the South African Literary Award for First-Time Published Author, was shortlisted for the South African Sunday Times Fiction Prize, and was a finalist in the inaugural pan-African Etisalat Fiction Prize. She lives in Johannesburg, where she writes and has her own architectural practice. Her U.S. debut, The Woman Next Door, was published by Picador on February 7, 2017.

On your nightstand now:

A Thousand Acres by Jane Smiley. Like a Mule Bringing Ice Cream to the Sun by Sarah Ladipo Manyika. Taduno's Song by Odafe Atogun. The Sellout by Paul Beatty. Tram 83 by Fiston Mwanza Mujila. The Story of Anna P as Told by Herself by Penny Busetto. Things Unseen by Pamela Power. I'm not reading them all at once though, I've never been able to read more than one book at a time. Instead they represent the most recent books I've read, the one I'm actually reading and the ones I'll be reading next.

Favorite book when you were a child:

Old Possum's Book of Practical Cats by T.S. Eliot. Some of my earliest memories are of my mother reading these poems to my brothers and me at bedtime. She was very good with the voices and we never tired of them.

Your top five authors:

I'm not a top-five person. I'm not even a top-10. Perhaps I could create a top-25 list without too much of a sweat, but seriously I hate to choose. There are so many incredible authors that inspire me. So perhaps I'll take the liberty of rephrasing the question. There are so many authors I love and respect, but there are a few whom I read where I know this isn't just loving a work, this is instruction. A writer like Siri Hustvedt feels like instruction. Similarly, Toni Morrison, Helen Oyeyemi--I feel compelled to read all their works, that this is somehow important for my own growth as a writer.

Book you've faked reading:

Being a Nigerian and knowing that the book was taught in schools across the country, I don't know how I missed this, but for a long time (too embarrassing to give specific time period) I hadn't read Things Fall Apart by Chinua Achebe. And I never had to work hard to fake it because it was pretty inconceivable for anyone to imagine that I hadn't read it. Anyway I can confess this here because I've now corrected this grievous error.


Book you're an evangelist for:

There are many books I turn to in worship. Of late Three Strong Women by Marie NDiaye just amazed me. In general I think Helen Oyeyemi's writing demands evangelism.

Book you've bought for the cover:

None. While I have a deep appreciation for aesthetics when it comes to books, I seem to abide by the cliché that says don't judge based on looks. In the end, though, I usually buy based on the first sentence and the typeface.

Book you hid from your parents:

Love at Second Sight by Cathy Hopkins--a very Mills & Boon-y book. I was quite young and thought my parents would be scandalised to see me reading a book with the word "breast" on so many of the pages.

Book that changed your life:

The God of Small Things by Arundhati Roy. She's an architect, I was studying architecture at the time and not really loving it, wanting to write but thinking I'd lost my chance somehow. Reading the book gave me courage and a sense of hope that things could still work out.

Favorite line from a book:

Again there are many. My problem is my memory is useless! But one I remember often and smile (cry?) about: "Why be happy when you could be normal?" from Jeanette Winterson's book with the same title.

Five books you'll never part with:

I struggle to part with any of the books I read, and I lend them out reluctantly, because I imagine I'll never see them again. But then again I've moved a lot and so, strangely, many of my favourite books aren't on my shelf, they are in storage somewhere or "lost." As a result some of the books I have loved dearly are nowhere to be found--Their Eyes Were Watching God by Zora Neale Hurston, So Long a Letter by Mariama Bâ, all the plays by August Wilson and many more.

Book you most want to read again for the first time:

I can think of several, and most are tied in with nostalgia. The books I read when I was between the ages of 12 and 14: Yoruba Girl Dancing by Simi Bedford. In The Castle of My Skin by George Lamming. Beka Lamb by Zee Edgell. As with music, the books you read at certain times in your life hold a special space, not only because of the specialness of the books themselves but also the particularity of the actual period you encountered them in.