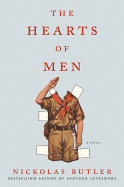 Nickolas Butler struck gold by mining small-town Wisconsin life in his much-lauded first novel, Shotgun Lovesongs. Wisely panning the same motherlode, The Hearts of Men takes place largely at Boy Scout Camp Chippewa in the state's heavily forested rural northwest--a setting that molds three generations of boys trying to become men.

Told in four parts set in 1962, 1996, 2019 and 2022, The Hearts of Men tracks the evolution of the camp as the ways of men are transformed by war, technology and sexual mores. In 1962, the camp bugler Nelson is a nerdy, glasses-wearing reader, an easy target for bullying by his callous fellow scouts. It takes an in-country stint as a tunnel rat in the Vietnam War to turn him into the Eagle Scout he longs to be. In 1996, one of Nelson's only scout "friends" brings his 16-year-old son, Trevor, to camp despite the boy's disdain. In 2019, after Trevor's death, his fragile widow, Rachel, insists their son Thomas go to camp, as his father did, to earn merit badges like orienteering. The only woman chaperone in camp, she endures the bigoted harassment of scout fathers, leading to abrupt violence, bravely subdued by Nelson, who is now camp director.

They leave camp shaken, and in 2022, Rachel buys an isolated cabin on her own, but adopts a pair of protective German shepherds, just in case. If there is an overriding lesson in The Hearts of Men, it might be found in the Boy Scout admonition, "Be prepared." There's no telling what life will throw your way. --Bruce Jacobs, founding partner, Watermark Books & Cafe, Wichita, Kan.