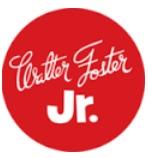 Walter Foster Jr., was founded in fall 2014 as The Quarto Group implemented a broad plan for children's publishing in the U.S. that included bringing in sister imprints from the U.K. In addition to Walter Foster Jr., MoonDance and Seagrass, Quarto's global children's business includes Wide Eyed Editions, Frances Lincoln Children's Books, Small World, QEB, Words & Pictures and Ivy Kids.
Walter Foster Jr.'s mission statement is "Encouraging creativity and sparking imagination in children of all ages." This remains the company's focus, says Anne Landa, "whether that includes expanding our original line of learn-to-draw titles with new and existing formats and licenses, or continuing to develop on-trend enthusiast categories with titles such as Words to Live By or our new line of Board Books: ABC Yoga and ABC Love."
The imprint's list has quickly developed from traditional art and craft how-to titles to a more well-rounded active nonfiction list of some 20 to 40 books a season. Landa says these books are "unique, fun, and have a purpose--whether it's encouraging a young child to take an interest in learning about literary figures or great artists in a humorous way, learning about grammar and mathematics with a fun twist, or finding their creativity and learning how to draw or paint with their fingers or with step-by-step lessons from experts. We have the historical know-how based on 95 years of art instruction that has now passed down to the children's lists; we have something for everyone."
Reflecting the imprint's myriad subjects, Walter Foster Jr.'s markets range from art and craft stores such as Michaels and Hobby Lobby, to small indies "and many places in between!" Landa adds. "And we have a fantastic foreign rights team that ensure our books are published in every language possible," one of the many advantages of being part of The Quarto Group.
Walter Foster Jr., has grown organically, which the company plans to continue "by publishing to strong verticals within product type" as well as publishing series extensions and through continued strong backlist sales. Landa adds, "Our new licensed titles should also enable growth as we look to further expand our account base."