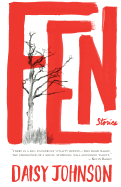 With a bold mixture of magical realism and unflinching frankness, Daisy Johnson guides readers into the brooding fenlands of England. Fen: Stories uses the wetlands fed by underground springs to tie together her remarkable stories.

The setting is central to her work; as Johnson has said in an interview, the fen "is not the coast. It is land that dreams of being coast." Similarly, her characters are not quite one thing, instead they dream of being something else. She adds, "The women in these stories feel the way the land does. As if they're missing something." In "Starver," a seemingly typical teenager stops eating. Instead of the expected tale of anorexia, the girl transforms into an eel and is reverently deposited in canal.

A theme of language weaves throughout the collection. In "Heavy Devotion," a messiah-like child learns to speak by taking words and memories from his mother. "The stealings," as she calls them, begins with the words she needs most, and ends with the inability to remember her name or "the sense of things." Johnson observes that "language spoken [in the fen] isn't the same as in other places; it's taken over, changed or destroyed entirely."

The women in these stories drink and smoke and swear and have sex and make bad choices. "A story seemed to find its place here when it did not look away from what was coming. I'm not sure our literary words should be for soothing." Johnson's next offering will be eagerly awaited after this strong and fearless debut. --Cindy Pauldine, bookseller, the river's end bookstore, Oswego, N.Y.