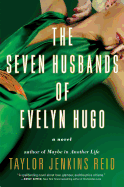 Legendary classic movie star Evelyn Hugo is famous for her scandalous love life, especially her seven marriages that have been tabloid fodder for decades. However, despite being a household name, nobody who is still alive knows the secrets Evelyn has kept for years. At age 79, she's ready to divulge all--but only on her terms. A woman who always gets what she wants, Evelyn has specifically selected as her biographer Monique Grant, a "puff piece" writer for Vivant magazine with her own marital and career woes.

More than a bit curious about why such an iconic figure would choose an unknown journalist to author her blockbuster biography, Monique gradually learns the hidden truth about the woman behind the gossipy headlines and whirlwind affairs with some of the most famous men in the world. As Evelyn reveals secrets about domestic abuse, backstage machinations and forbidden love, Monique is shocked to discover secrets about herself, including her personal connection to one of the silver screen's luminaries.

The Seven Husbands of Evelyn Hugo is more than escapism fiction sweeping its audience back to an era when show biz glamour danced with real-life intrigue, romantic entanglements and perceived impropriety. With memorable characters rivaling any Hollywood blockbuster, Taylor Jenkins Reid (One True Loves) marries themes of loyalty, betrayal, friendship and love into a soaring, fast-paced and gripping performance. It leaves readers asking if they are merely role-playing with those they love or being true to an authentic self. --Melissa Firman, writer, editor and blogger at melissafirman.com.