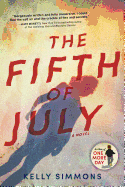 Every July 5, the Warner family gathers on Nantucket for a group photograph. It's tradition, as much a part of summer as clambakes and chowder with longtime friends. But for Caroline Warner, the obligatory photo session and the successive years of family portraits in their vacation home spark painful reminders of being raped at age 13 on the Fourth of July.

Three decades later, the Warners still don't discuss what happened during that fateful backyard slumber party in 1987, leaving unresolved feelings on many levels. With a new assailant at large, Caroline's protectiveness of her young daughter is heightened by the realization that life on Nantucket has changed, both inside and outside their home. Chemotherapy has profoundly altered patriarch Tripp Warner's neurological functioning. A new neighbor's lawsuit prompts a backlash of hate crimes. Siblings Caroline and Tom struggle with their quiet contempt for each other amid old and unspoken hurts. Newcomers demolish and lavishly rebuild without regard for island norms and customs while the Warners' home--noted for its grand widow's walk with impressive island views--remains stagnant, stuck in a bygone time. ("Nothing in the house was new. Only things with heart, memory, stories woven in.")

Kelly Simmons (The Bird House) invites readers into the Warners' home and lives through their own words; The Fifth of July is narrated by several unreliable characters, each demonstrating the need to declare independence from the painful experiences, places and dysfunctional people in their lives. Simmons brilliantly draws readers into the family's pervasive cloud of suspicion and distrust, contrasting the picturesque idyllic innocence of Nantucket summers with the storms of adulthood. --Melissa Firman, writer, editor and blogger at melissafirman.com.