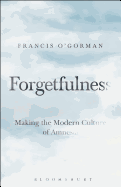 In Forgetfulness, British thinker Francis O'Gorman aims to distill many of the problems of modernity into a single cause. The trouble with our current age, O'Gorman claims, is that humans now solely focus on the future, without properly tending to the past or understanding what that future might truly entail.

O'Gorman delves into the roots of Western culture for a different kind of cultural schema, arriving at the Grecian notion of citizen and family member. The Greeks worshipped their ancestors, keeping the history of their family and city as part of their everyday lives. When monotheistic religion arrived, however, with its focus on a world to come, the future outstripped the past and the West began to succumb to cultural forgetfulness. Tracing that phenomenon into contemporary culture, O'Gorman dissects everything from the English novel to "personal growth plans" at work, showing that global capitalism and art have intensified modernity's fixation on the future. But, he rightfully points out, there is no end game for the forward push of art or economy: a company continues to grow and make profit, while art always searches for the fresh and new.

O'Gorman's eye is keen and his words sharp as he picks apart much of modern life, but he doesn't provide easy solutions. He is well aware that the problems he raises are possibly too vast and far-gone to be dealt with on a cultural scale. Instead, he hopes to instill the reader with an interest in personal remembrance, in not so easily buying into a future that won't ever really come. --Noah Cruickshank, adult engagement manager, the Field Museum, Chicago, Ill.