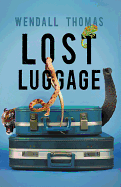 Fans of Janet Evanovich's Stephanie Plum are sure to adore Cyd Redondo, Brooklyn, N.Y., travel agent extraordinaire, who has never been further than New Jersey. Cyd works for her uncle's agency, specializing in package tours for retired vacationers. She is desperate to travel and escape her mundane life, where the only recent excitement was the death of the neighboring pet store owner. After meeting a handsome man named Roger at a travel conference in Atlantic City, Cyd can't resist asking him to be her plus one when she wins a safari to Tanzania.

But plans for a romantic vacation with Roger go awry when they arrive in Africa to discover that some of the elderly clients she'd booked on this same tour have been arrested. Then, inexplicably, Roger disappears with their luggage. Cyd Redondo of Redondo Travel can't let that slide, and sets off on a mission to save her clients from prison and figure out what happened to Roger. Soon she's knee-deep in poachers, smuggled animals and vegan tour guides as she staggers through the jungle in her stilettos on her quest for the truth.

Laugh-out-loud funny and enchantingly ridiculous, Lost Luggage, first in a series by Wendell Thomas, is a highly entertaining peek into the world of smuggling and the lengths people will go to for money. Cyd's spunky attitude and Brooklyn twang might bewilder the Tanzanians she meets, but the funny scenarios that surround her will have readers roaring. --Jessica Howard, bookseller at Bookmans, Tucson, Ariz.