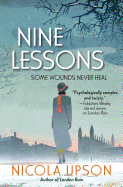 Detective Chief Inspector Archie Penrose is called to the scene of a horrific murder--an organist has been entombed alive in a London church graveyard. In his pocket is a torn photo, showing half of a manor house near Cambridge where, coincidentally, Archie's lover Bridget lives. Moreover, the inspector's old friend Josephine Tey, the mystery author and playwright, has recently moved there. Archie is soon spending a lot of time in Cambridge, investigating a string of increasingly disturbing murders involving former members of the King's College Chapel who studied just before World War I broke out.

Meanwhile, a serial rapist is terrorizing the city, making many women, including Josephine, afraid to venture far from home. As Archie and his friend face alarming violence, they end up discovering that they need each other's expertise to find justice--especially when a secret that Bridget has been keeping holds major implications for each of them.

Fans of Charles Todd, Jacqueline Winspear or Tey herself are sure to adore Nicola Upson's journey into 1930s England. The seventh novel in Upson's Josephine Tey series, Nine Lessons brings the author to life in striking, flawed fashion, adding an extra layer of interest to this historical mystery. Readers interested in Britain between the wars will particularly appreciate the grim undercurrents, but anyone can enjoy this clever mystery. --Jessica Howard, bookseller at Bookmans, Tucson, Ariz.