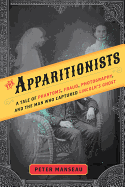 Humans, inconveniently mortal, have always hoped that death was not final. In The Apparitionists: A Tale of Phantoms, Fraud, Photography and the Man Who Captured Lincoln's Ghost, Peter Manseau (Songs for the Butcher's Daughter) introduces the photographer who offered proof that the dead aren't gone.

William Mumler became a photographer in the mid-1800s. After he took a self-portrait that appeared to include his deceased cousin, the publicity spurred him to start a business taking "spirit photographs." Mumler's wife, Hannah Stuart, was a "healing medium"; together they offered séances and spirit photographs for a fee. Mumler famously photographed Mary Todd Lincoln with the ghost of her husband, President Lincoln, behind her. As unlikely as these photographs were, enough people "entered the Mumlers' studio with a private ache and left with a heart filled" that he became a celebrity.

Manseau introduces contemporaneous historical figures to contextualize Mumler's work. Spiritualists like the Fox sisters encouraged a gullible public. Samuel Morse, besides inventing his code, advanced photographic technology after his wife died and he had no way to remember her face. Alexander Gardner and Matthew Brady, American Civil War photographers, contributed to the commoditization of photography.

Mumler was ultimately accused of fraud and arrested. P.T. Barnum, the showman, played a part in his trial, testifying against him. Mumler was found not guilty but did not return to his former business. He went on to discover technology for magazine images, playing "a pivotal role in the creation of the image-obsessed culture that still defines the nation." Manseau brings disparate historical threads together to create an engaging narrative history. --Cindy Pauldine, bookseller, the river's end bookstore, Oswego, N.Y.