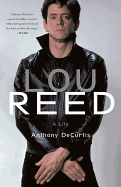 Through his work in the Velvet Underground and solo career, Lou Reed helped define rock 'n' roll in the 1960s and '70s. With songs about drug use, sex work and other risqué topics (which sometimes seem quaint in comparison to modern music), Reed opened the door for songwriters looking to capture the underbelly of modernity and changed the way popular music would consider its subjects forever. Anthony DeCurtis's 500-page biography, Lou Reed, nimbly moves across the complex, genre-defining 71 years of Reed's life.

Lou Reed follows the typical route in biography, beginning with Reed's childhood in New York. DeCurtis then traces the artist's early days playing gigs at college and his eventual meeting with classically trained viola-player John Cale and the formation of the Velvet Underground. But, notably, the rise and fall of VU (as Reed himself referred to it) barely takes up a third of Lou Reed, although the band is unquestionably where Reed made his biggest impact on music. DeCurtis gives each period of Reed's life the same attention and empathy, arguing that Reed's output in the 1980s and 1990s is as worthy of discussion.

A noted rock critic, DeCurtis writes with clarity and precision, and is forthright in his criticisms of Reed's behavior (which could be quite cruel). Still, he clearly has deep respect for the man and his music, which infuses the biography with warmth. Reading Lou Reed is a bit like having a casual conversation with the rocker's biggest fan: fun, informative and poignant. --Noah Cruickshank, adult engagement manager, the Field Museum, Chicago, Ill.