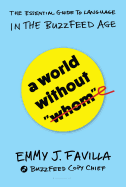 Like many copy editors, Emmy Favilla dreams in punctuation marks: the cheeky parenthesis, the versatile ellipsis, the eloquent em dash. But she also dreams of a world "with peace and without whom [...], figurative literallys and comma splices frolicking about."
This vision may strike fear in the hearts of old-school editors everywhere. But Favilla, the copy chief for BuzzFeed, is determined to bring those English-major types along to her subjunctive-free utopia. After making headlines when she published the BuzzFeed house style guide online in 2014, Favilla has spoken widely about her decidedly casual approach to language. Her book, A World Without 'Whom,' is snappy and irreverent--but it's also thoughtful, well-informed and relentlessly commonsense. (And sprinkled liberally with em dashes.)
Favilla begins by tracing the (ongoing) evolution of the BuzzFeed style guide, which she compiled as her first editorial assignment at the site. She then delves into its broad sections, drawing distinctions between vital issues of clarity and sensitivity ("Getting Things Right: The Stuff That Matters") and other questions with more fluid answers ("Getting Things As Right As You Can"). Favilla illustrates her points throughout--sometimes literally--with GIFs, screenshots of Slack exchanges with her colleagues, and examples pulled from BuzzFeed stories. "Change is, after all, what keeps a language in business," she says, insisting that as language evolves, so should our approach to it. But while Favilla may be a linguistic rebel, she's not a total anarchist: she's always ready to poke fun at Strunk & White, but equally ready to insist on clarity, respect, practicality and a dash (em or en) of humor.
While it may induce cringing among red-pen wielders, Favilla's book will also provoke (literal) LOLs and may inspire a kinder, gentler, more free-flowing approach to language for grammar nerds both traditional and modern. --Katie Noah Gibson, blogger at Cakes, Tea and Dreams