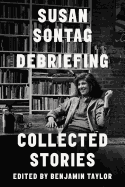 Celebrated American intellectual Susan Sontag was known as a master essayist and novelist, but this short story collection aims to widen readers' view of her work. From the autobiographical to dabbling in science fiction, the pieces in this collection (edited by Benjamin Taylor) show a writer always thinking of new ways to tackle questions of identity, loss and language.

Taylor eases the reader into Debriefing by putting a piece of memoir at the beginning. "Pilgrimage" recounts a journey by the awkward teenage Sontag to visit the famous German author Thomas Mann while he was living in California. Told in a funny, self-deprecating style, the story expertly depicts her influences and concerns, all of which will reappear in the following pages. Debriefing is never so close to the author again, but readers will keep that first impression as they move forward through the collected stories.

The standout "Doctor Jekyll" reimagines Robert Louis Stevenson's novella in modern New York, recasting the titular hero as a man in midlife crisis before taking the story in directions the original never dared. The final story, "The Way We Live Now," is a tragic, if often funny, look at how AIDS impacted communities. Told in a strange style where every sentence is run-on and full of hearsay, Sontag mimics the feeling of a group discussion, where the topic at the center (in this case a very sick friend) is less important than the interactions between the speakers. Fans of Sontag and new readers alike will find plenty of enjoyable material in this lovely collection. --Noah Cruickshank, adult engagement manager, the Field Museum, Chicago, Ill.