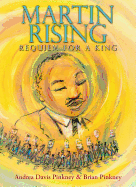 Using powerfully lyrical poetry and strikingly bold watercolor, gouache and India ink illustrations, wife-and-husband collaborators Andrea Davis Pinkney and Brian Pinkney pay homage to Dr. Martin Luther King, Jr.'s final months of life. They chronicle the Memphis sanitation workers' strike, Dr. King's role in the protest, his assassination and the legacy that lives on in his name.

Andrea Davis Pinkney's poems present the peaceful civil rights activist on a multitude of levels, offering insight for young readers of varying abilities. Whether literal, spiritual or metaphorical, all of her words carry a melodic quality that exalts her subject, celebrating his courage and accomplishments while leaving a lasting impression on her audience. In the poem "Compass," about King's murder and printed on a darkly painted page, she describes his necktie, on a white shirt now splattered with blood: "The necktie's tail--flipped, crooked, cockamamie--/ is a needle pointing north/ on a compass whose every arrow/ leads to peace." In darkness, Pinkney finds an indicator of hope in this American icon.

Complementing his wife's language, Brian Pinkney reveres King with strokes of heavenly color. He depicts the Lorraine Motel, strikers, King's friends and family and, of course, the man himself. Pinkney interprets weather, emotion and the strong spiritual aspect of King's life through his arresting paintings.
Additional content at the conclusion offers presentation ideas for classrooms, but Martin Rising is a treasure for lone readers, reading groups or classrooms. And while middle graders are the target audience, the content will inspire people of all ages. --Jen Forbus, freelancer