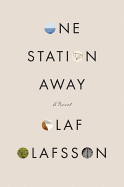 Born in Iceland, raised in England and living alone in New York City, Magnus Conyngham, the narrator of Olaf Olafsson's brainy novel One Station Away, is neuroscientist working in a well-funded lab in Connecticut. His days are filled with coffee, commuting and navigating the egos of his department chair, his lab assistants and the chairs of the two European academic centers collaborating on his research project. Although focused on his study of the brain function of comatose patients, Magnus is frequently preoccupied with his Buenos Aires-born, ballet dancer lover, Malena, and her sudden death from a motor neuron disease--a disease he failed to detect in his exuberant infatuation with her.

In self-imposed exile, Magnus hardly understands anyone around him--until he takes on a new research subject in a coma after a New Mexico motorcycle crash. A Latina Jane Doe, she fails to show any MRI brain response to his rote questions until he begins to sit with her, talking, playing music and reading to her in Spanish from One Hundred Years of Solitude. Finally, she blinks, her scans light up and she is able to answer yes and no questions. Is it a scientific breakthrough, a sociable dialogue or a call for help?

A Time Warner executive born in Iceland, Olafsson (Restoration) methodically immerses readers in the mind of the contemplative, sensitive and self-doubting Magnus. Olafsson's smooth and deliberate narrative gradually reveals the deceptive complexity of his characters. Even as they move in the professional worlds of the artist and scientist, they are as prone to detachment as the rest of us. --Bruce Jacobs, founding partner, Watermark Books & Cafe, Wichita, Kan.