2017 gave us some incredible books for children and teens (you can see our Best Of list here). With Black History Month almost upon us, we wanted to highlight a few of those amazing titles by black authors and illustrators. If you haven't already, definitely check out the books below.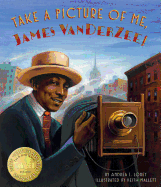 Take a Picture of Me, James VanDerZee! by Andrea J. Loney, illus. by Keith Mallett (Lee & Low, $19.95, hardcover, 40p., ages 6-9)
James, the oldest son born to John and Susan Elizabeth VanDerZee, the butler and maid for President Ulysses S. Grant, was raised in Lenox, Mass., in an artistically inclined family. He "liked to paint, but drawing people was hard. He could never get their expressions right. James wanted to share the beauty he saw in his heart." When a gentleman comes to his home and uses a "contraption called a camera" that perfectly captures "everyone's smiles and [his] mother's sweet gaze," James knows immediately how one makes great pictures: with a camera. Andrea J. Loney's text highlights VanDerZee's determination and imagination as it lays out his journey; Keith Mallett's acrylic on canvas illustrations set tone beautifully. The vibrant illustrations paired with the lively text make Take a Picture of Me, James VanDerZee! a picture book biography that shares the beauty VanDerZee saw in his heart.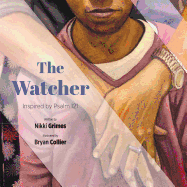 The Watcher: Inspired by Psalm 121 by Nikki Grimes, illus. by Bryan Collier (Eerdmans, $17, hardcover, 42p., ages 6-10)
For those unfamiliar with "golden shovel" poems, here's how they work: choose an existing poem, then create a new poem by ending each line with the exact words, in order, of the original poem. Here, Coretta Scott King Award winner Nikki Grimes opens with Psalm 121, and alchemizes the verses into The Watcher, a contemporary narrative about a bully and her victim who learn how to be friends. Hopeful and affecting, Grimes and Bryan Collier's third collaboration provides exquisite affirmation of the healing power of forgiveness and compassion.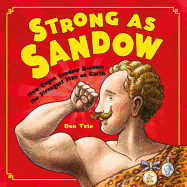 Strong as Sandow: How Eugen Sandow Became the Strongest Man on Earth by Don Tate (Charlesbridge, $17.99, hardcover, 40p., ages 6-9)
Don Tate, who used to be a bodybuilder, treats the exceptional life of Eugen Sandow with appreciation and respect while making sure to note that much of what people today know about Sandow came from the man himself--a man who constantly sought perfection and sometimes stretched the truth. Tate's biography of one of the first international sports stars is welcoming to the young reader with approachable text and rich digital illustrations. And, for the budding athlete, there is even a page that teaches strength-building exercises.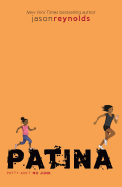 Patina by Jason Reynolds (Caitlyn Dlouhy/Atheneum, $16.99, hardcover, 240p., ages 10-13)
Patina, the second book in Jason Reynolds's Track series, has the titular character interacting with and befriending the cast of characters from Ghost while maintaining a stand-alone story. It is simply impossible not to love Patina. She is, as she states of herself, "No junk. Frida [Kahlo] in a suit. Mary J. Blige in track shoes." Charming, hardworking and a dedicated sister, runner and student, Patina is a wholly sympathetic character who finds her own peace by learning to work with others.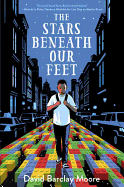 The Stars Beneath Our Feet by David Barclay Moore (Knopf, $16.99, hardcover, 304p., ages 10-up)
Lolly Rachpaul's older brother, Jermaine, was shot and killed and Lolly keeps erupting in anger. He's scared, too; living in the St. Nick projects in Harlem, he's always on guard. Some of the older kids in the neighborhood are pressuring Lolly to join a "crew," but what Lolly really wants to do is keep working on the one thing that, as he says, "Makes me me": Legos. Following the instructions has always been important to him, but after Jermaine's death, Lolly begins creating cities. When his mother's girlfriend starts bringing home garbage bags full of cast-off Lego bricks from her custodian job, Lolly's ambitions--and his city--grow. David Barclay Moore's magnificent debut novel, The Stars Beneath Our Feet, is a story about making choices. "The folks you hang out with can raise you up or bring you down low," Lolly discovers. It's up to him to choose.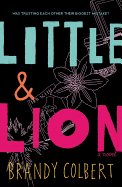 Little & Lion by Brandy Colbert (Little, Brown, $17.99, hardcover, 336p., ages 15-up)
Returning to Los Angeles from boarding school, Suzette is excited to see her old friends, especially her crush Emil and her stepbrother Lionel, whom she calls "Lion." She is disappointed to find that Lionel, diagnosed with bipolar disorder, has disconnected from their group of friends, especially because her parents' desire to focus on his treatment was the reason Suzette was sent to boarding school in the first place. Suzette (whom Lionel calls "Little") thinks her mother "really thought she did what was best for all of us by sending me away," but she knows "how easy it is to believe you're doing the right thing if you say it to yourself often enough." Little & Lion unfolds in alternating "then" and present-day chapters, allowing Suzette to understand what happened while she was away and what happened to send her away. Brandy Colbert paints a realistic, nuanced portrait of bipolar disorder, showing Lionel's high energy and irrational anger while also depicting the long process that begins with identifying symptoms and leads to diagnosis and management. Suzette's coming to terms with her bisexuality and Lionel's bipolar disorder are given the gravity and time they deserve without pat outcomes. Sexy moments and raucous but realistic teen parties round out this passionate, contemporary bildungsroman.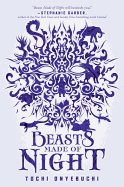 Beasts Made of Night by Tochi Onyebuchi (Razorbill, $17.99, hardcover, 304p., ages 12-up)
To craft the gripping fantasy world of Tochi Onyebuchi's debut novel, Beasts Made of Night, he takes the age-old idea of the haves and the have nots, adds a dose of magic, sprinkles in action and intrigue, then tops it all with a deliciously complex character on his path of self-discovery. Beasts Made of Night is an intense novel that touches on powerful themes of justice, inequality and family. Onyebuchi's inventive realm, combined with the Nigerian influences, ink the reader's soul and are certain to leave a lasting mark on the young adult canon as well.