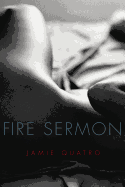 A lean first novel steeped in theology, suburban domesticity, literary criticism, child-rearing and, most dramatically, infidelity, Fire Sermon sizzles and cools to the rhythm of its narrator Maggie's moods and meanderings. Maggie and Thomas married in 1993 in a tony Malibu wedding, but she is a bit of a loose cannon. After stints in graduate school at Princeton and Vanderbilt, they have two children and settle down near Nashville.

In 2013, Maggie begins to correspond with James, a married theology-centric poet at Princeton whose work moves her. Soon they are regularly e-mailing, arranging to meet at conferences, and finally copulating heatedly on the floor of a Chicago Hyatt room. We know how it goes: lonely woman with comfortable family life falls for attentive married man, and a match is struck to burn everything down. In Fire Sermon, however, Maggie's domestic life doesn't go up in flames--her inner life does.

Fire Sermon is a contemporary take on an age-old story. Politics hardly enters Maggie's head. The 9/11 tragedy is a bad memory; the long wars it spawned not even mentioned. Quatro is more interested in what Frost called "inner weather." The heat of Maggie's lust for James is consummated a few intermittent times over the years, but it never goes away--even when she and Thomas celebrate their 25th anniversary at a Naples, Fla., high-rise hotel where Quatro observes, "they've worn down together, and what's left is understanding and kindness." Perhaps the conflict between head and heart is itself God's will. --Bruce Jacobs, founding partner, Watermark Books & Cafe, Wichita, Kan.