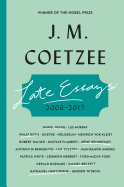 With wondering intelligence and a deep understanding of history, Nobel Laureate J.M. Coetzee (Disgrace) tackles literary classics and lesser-known works in Late Essays.
The volume includes 23 essays written between 2006 and 2017. They offer interesting historical and biographical details of major literary figures like Daniel Defoe, Johann Wolfgang von Goethe and Samuel Beckett. They also dissect prevalent themes in major literary works like The Scarlet Letter and The Sorrows of Young Werther. Coetzee turns the same analytical eye on modern writers like Philip Roth; he relates Nemesis to fictional treatments of the plague. Coetzee also shines light on writers less known in the English-speaking world, including French Jewish author Iréne Némirovsky and Spanish author Juan Ramón Jiménez.
Perhaps the best essay is Coetzee's analysis of Gustave Flaubert's Madame Bovary. He astutely examines letters Flaubert wrote while working on the classic novel, illuminating his construction of the famous Emma character and his groundbreaking compositional style. Coetzee argues that Flaubert showed how "psychological analysis could have the same swiftness, clarity, and forward drive as narrative." He elicits the ways Flaubert inhabited the world of his doomed heroine: "in the white heat of creation the individual self of the artist is consumed and absorbed into his creative self."
By focusing the mysterious inspirations of so many luminary authors, Coetzee has made his Late Essays into a vibrant and inquisitive work of literary criticism. --Scott Neuffer, writer, poet, editor of trampset