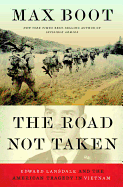 The Road Not Taken: Edward Lansdale and the American Tragedy in Vietnam by Max Boot (Invisible Armies) focuses on Edward Lansdale, the Air Force officer and legendary CIA operative said to be the inspiration for the protagonist in Graham Greene's The Quiet American. Boot dispels this belief, along with many others, rescuing Lansdale's image from those who would cast him as a clueless, bumbling power broker. Instead, Boot argues that Lansdale's diplomatic and counterterrorism ideas were simply ahead of his time, forming the basis for an enormously influential "hearts and minds" strategy that offered both a more ethical and more effective vision for achieving U.S. aims abroad than prevalent approaches.

As the subtitle suggests, Boot's book centers on Vietnam, where "Lansdalism" met with varying degrees of acceptance and success, and argues it could have gone differently if only the right people had listened to this personable former adman-turned-CIA-operative. For a real-life example of "the road not taken," Boot first takes us to the Philippines in the late '40s and early '50s, where Lansdale found a second homeland and his first tastes of success. Charged with helping to combat a Communist insurgency that threatened the Filipino postwar government, Lansdale started by befriending everyone in sight. He was also an immensely capable propagandist, promoting his favored candidate with catchy slogans and even a popular song. Lansdale was no peacenik, but his focus on community relations and minimizing civilian casualties were a far sight from the policies eventually adopted in Vietnam.

The Road Not Taken offers a portrait of Lansdale as well as a foreign policy alternative to the U.S.'s often heavy-handed, militarized approach. --Hank Stephenson, bookseller, Flyleaf Books, Chapel Hill, N.C.