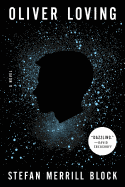 Set in a wasted West Texas township between artsy Marfa and sleepy Marathon, Stefan Merrill Block's third novel (after The Storm at the Door and The Story of Forgetting), Oliver Loving, ruminates on the consequences of a seemingly random shooting at a high school homecoming dance. Sixteen-year-old Oliver Loving took a bullet during the bloodshed. For 10 vegetative years he has been on life support in "Bed Four" at Crockett Assisted Living Care Facility, among the aged and Alzheimer's victims.

Broken but still hopeful, his fragile mother, Eve, visits vigilantly. She shoplifts Tolkien novels and Dylan music to try to reach him with familiar pleasures. His father, Jed, a failed artist and former high school art teacher, moved to a garage shack in Marfa to sculpt desert trash and drink George Dickel. His younger brother, Charlie, escaped Presidio County for Brooklyn, where he cruises gay bars and half-heartedly scribbles a journal about Oliver that he hopes to sell. Conscious or unconscious, Oliver is at the center of Block's narrative, but the real story is the Loving family's dissolution and buried resentments swirling among the landscape's raw emptiness.

With pinpoint accuracy and rich metaphor, Block's prose equally captures the psychological nuances of loss. The driving mystery of Oliver Loving may be the why of the shooting, but Block's story gets its powerful depth from his eloquent exploration of what he frequently refers to as the before and after of it. --Bruce Jacobs, founding partner, Watermark Books & Cafe, Wichita, Kan.