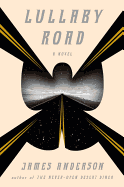 The winter winds buffet the empty highways of Utah's high desert between Price and Moab where Lullaby Road's loner narrator, Ben Jones, runs his daily deliveries to the outcasts and oddballs that make the place home. A self-described "Indian-Jew, half-breed trucker," Ben first appeared in James Anderson's debut, The Never-Open Desert Diner, as did many of this novel's portfolio of offbeat locals.

The second in what will be a trilogy, Lullaby Road kicks off with Ben heading down the highway with an unexpected cab full of kids and a dog. The reclusive and unpredictable owner of the Stop 'N' Gone Truck Stop directs Ben to a four-year-old in a blanket, abandoned beside a pump with a large guard dog for warmth and an attached note asking Ben to take care of them. His duplex neighbor's babysitter calls in sick, and she throws her infant and a diaper bag in his cab so she can make her shift at Walmart. The softhearted, usually live-and-let-live Ben wishes for more than lullabies to shepherd this sudden family through the storms and dangers that often fill his workdays.

Ben's adventures are as amusing as they are perilous, but underneath, he is just a guy raised in foster homes trying to stay sober and cigarette-free while doing right in a desolate but breathtaking land. He gets by "putting one foot in front of the other, my eyes on my boots, and willing myself not to look too far down the road." Lullaby Road is a triumphant mix of landscape, character, wit and sagacity wrapped in a noir thriller. --Bruce Jacobs, founding partner, Watermark Books & Cafe, Wichita, Kan.