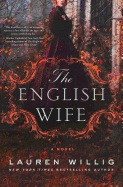 Lauren Willig (The Other Daughter) captures the glamour of the Gilded Age in The English Wife. Janie Van Duyvil, spinster daughter of a wealthy, old Knickerbocker family, is shocked to discover her brother, Bayard, bleeding to death. Chaos breaks out, and Janie's not quite sure what happened next, but she swears she saw his wife Annabelle's body floating away from their Hudson River mansion.

Over the ensuing weeks, the press goes crazy over Bay's murder and Annabelle's disappearance, creating all sorts of rumors about the Van Duyvils. Janie, convinced Annabelle wouldn't willingly leave their four-year-old twins, enlists the help of James Burke, one of the reporters, in finding out who stabbed Bay and what happened to Annabelle. As Burke begins digging, he uncovers truths about both Annabelle and Bayard that will make Janie realize she scarcely knew her own brother. Meanwhile, alternating chapters tell of a happy Bay and Annabelle meeting in England, five years earlier, adding a bittersweet element to the brother's death.

A glittering, atmospheric novel, The English Wife is a delightfully twisty tale that will keep readers guessing. Willig does an excellent job, as always, of creating likable characters in a vivid setting, but this tale is much more suspenseful than most of her oeuvre. With the historical panache of Kate Morton and the delicious tension of Lisa Jewell, The English Wife provides the perfect excuse to stay up too late reading. --Jessica Howard, bookseller at Bookmans, Tucson, Ariz.