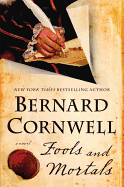 So much ink continues to be spilled about William Shakespeare that often it takes a novel perspective to bring out something strikingly new about the Bard. In Fools and Mortals, Bernard Cornwell finds that perspective in the form of a sibling, Richard. The author of the Sharpe and Saxon Tales series uses the somewhat devilish younger Shakespeare as a vehicle for a fun, amusing caper about the writing and first production of A Midsummer Night's Dream.

While a part of William's theater company, Richard is barely on speaking terms with his brother. Playing women's parts (ladies were banned from being actors at that time), but quickly growing too old for those roles, Richard craves a greater place in his brother's world. When a play written for the wedding of a patron's granddaughter is announced, he jumps at a chance to play a man, and is accidentally thrust into a conspiracy to steal the play and ruin his brother's career.

Fools and Mortals is silly fun, a thrill ride through Elizabethan England where actors were knaves and puritanical mores were on the rise. In his acknowledgements, Cornwell notes that much of the book is fictitious, and that's the best way to read it. Those looking for a historical record of Shakespeare should head to the biographies, but for anyone wanting to read about the Bard dueling with swords and wooing bar-maidens, Fools and Mortals is a good bet. --Noah Cruickshank, adult engagement manager, the Field Museum, Chicago, Ill.