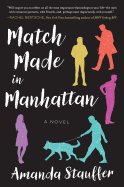 In her first novel, Match Made in Manhattan, Amanda Stauffer captures the vibe of Sex and the City for the digital age. Serial monogamist Alison, who dated one guy all through college, and one more for the years since graduation, is suddenly single. Realizing she's never really been on a first date (both of her boyfriends started out as friends), Alison decides to take the plunge, and joins Match.com to find the man of her dreams.

For a year Alison, an architectural conservationist, goes out with "the New Testament of bachelors"--Matt, Marc, the Lukes, John, James, Paul and more. She dates needy men and nice men and kind men and full-of-themselves men. She becomes frustrated by men who represent themselves differently online, and pleasantly surprised by men who are more handsome in person than their profile pictures suggest. Finally, she meets a guy who seems perfect for her, but is he actually "the One?" All the while, as Alison agonizes over various men and what she likes and dislikes about them, her roommate and other girlfriends provide a bulwark of support and sympathetic listening.

Perfect for anyone who has dated their share of oddballs, this novel will make readers in relationships very happy not to be single, and will make single readers feel understood, as they read about Alison's triumphs and disasters. With some funny scenes and a few decidedly cringeworthy ones, Match Made in Manhattan is the modern dating scene encapsulated. --Jessica Howard, bookseller at Bookmans, Tucson, Ariz.