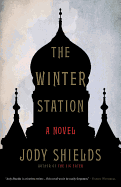 The Winter Station by Jody Shields (The Fig Eater) is an atmospheric thriller based on the Great Manchurian Plague. "It's a live thing, a beast with a strategy for survival," when it arrives in Kharbin, China, in 1910 during the Russian occupation of the area.

Kharbin is strategically important for international trade, and its train station is China's busiest, although frigid temperatures make it an extraordinarily difficult place to live. The Russian army controls the city, maintaining a strained relationship with Chinese, Japanese and European interests. The Baron, a wealthy Russian physician deployed as medical commissioner, investigates dead bodies discovered near the rail station that mysteriously disappear. Even as the number of corpses surge, General Khorvat, the authority in Kharbin, brushes off their significance.

The Baron eventually realizes that plague has arrived and its reach is widening, information that the government hopes to hide. With no understanding of how it spreads or how to treat it, quarantines are ordered as panic begins. Even so, fatalities increase, and the futility of the fight is apparent. "Doctors cling to the belief that they have a remedy.... Everyone at the hospital works a fraud," says one physician. The Baron finds himself fighting bureaucracy and Western medicine to keep the plague from following the rail lines and spreading to the rest of the world.

Shields writes movingly of the human cost of this forgotten epidemic. She reminds us that, to an imperceptible enemy, the lines dividing nations are only a mark on a map. --Cindy Pauldine, bookseller, the river's end bookstore, Oswego, N.Y.