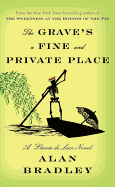 Intrepid sleuth Flavia de Luce has turned 12, but that hasn't changed her inquisitive nature. She and her older sisters, Ophelia and Daphne, are on vacation with their faithful servant, Dogger, as they try to move past the tragic events of Thrice the Brinded Cat Hath Mew'd. As always, however, death stalks Flavia. The sisters are with Dogger, punting down the river, when Flavia's trailing fingers lodge in the open mouth of a dead man floating just beneath the surface.

The murdered man turns out to be the son of a famous local poisoner, who was hung for his crimes the year before, and Flavia--chemist and poison expert--is ecstatic. She and Dogger realize that the local constabulary are probably not up to solving a case of this magnitude, so Flavia immediately begins questioning everyone in town, including the undertaker, circus roustabouts and the local pub owner. Can she solve the crime before the murderer gets away with another one? And, astonishingly, are her sisters going to be an asset, rather than scornfully ignoring her as usual?

The Grave's a Fine and Private Place is almost a reset of the Flavia de Luce series, with Bradley harking back to the charms of The Sweetness at the Bottom of the Pie and A Red Herring Without Mustard. He lets Flavia be her hilarious, inimical best, and perfectly captures village life in 1950s Britain. Historical fiction and mystery readers alike are sure to rejoice at getting to spend another afternoon in Flavia's agreeable world. --Jessica Howard, bookseller at Bookmans, Tucson, Ariz.