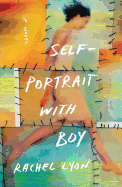 Young Brooklyn photographer Lu Rile is working on a series of self-portraits in front of her loft window in an illegal apartment building. Career lightning strikes when the 400th shot reveals an unambiguous background image of a young boy falling to his death from the roof. A blown-up color print confirms the brilliance of the photo's composition and sets Lu on a determined path to get it included in a group show at a chic SoHo gallery.

But what about the feelings of the shattered parents whom she barely knows? What if seeing their son's death in her masterpiece irrevocably exacerbates their grief? In Lu's first-person narrative looking back on that formative time, former Indiana Review fiction editor Rachel Lyon captures the gritty artistic ambition of New York City in the 1990s, when just-getting-by artists elbowed each other to land on rich collectors' walls. It was an artist-eat-artist world, and Self-Portrait with Boy illuminates it--a bold first novel with bite.

Working three jobs and making prints among the rats and roaches in her freezing squat, Lu desperately needs her self-portrait to lift her out of a life of dirty black tees and shoplifted food. Gathering with her artist neighbors for the obligatory wake, the socially awkward Lu becomes drawn to the boy's mother as both comforter and semi-erotic friend. Soon Lu must choose between her art and her new friend's wellbeing. Set in a particular time of New York artistic renaissance and with allusions to Vivian Maier, Self-Portrait with Boy is a snapshot of an ambitious artist as a young woman. --Bruce Jacobs, founding partner, Watermark Books & Cafe, Wichita, Kan.