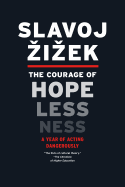 Slovenian philosopher and cultural critic Slavoj Žižek is a devoted student of psychoanalysis and Marxism; no matter the subject his eye wanders to, his lenses are that of the psychological and of class struggle. Whether movies or President Donald Trump's first year in office, Žižek takes conventional wisdom and uses the works of Marx and Lacan to flip it on its head. In The Courage of Hopelessness, he surveys the political landscape in 2017 and argues that the true disaster upon us is the ever-growing domination of global capitalism.

Broken into sections focusing on different parts of the world, the book delves into the subversion of religion by capital in China, the political chaos around the rise of the Grecian Syriza party, the 2016 American presidential election, transgenderism and dozens of other topics. As usual, Žižek deftly weaves disparate strands of commentary together to show how the economic, political and social structures of countries across the world are all prey to the same forces of havoc. The book's jacket suggests Žižek sees no hope left for the future, but he certainly recognizes opportunities on the horizon, especially in historical moments like the rise of Syriza and Trump.

While The Courage of Hopelessness is relatively breezy in comparison to most other philosophical considerations of the world's predicaments, Žižek's writing here isn't an easy entry for readers interested in his work. Nevertheless, fans and sympathizers of the writer will certainly find what they're looking for in this polemic. --Noah Cruickshank, adult engagement manager, the Field Museum, Chicago, Ill.