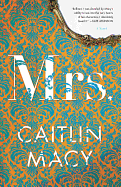 In Caitlin Macy's novel Mrs., the roles of women are largely defined by their mates (Mrs.) and their children (Mom). They gather and gossip during school drop-off and pick-up at Manhattan's St. Timothy's. They eye each other's fashions, limos, nannies, husbands and children's behavior. Theirs is "a society that ran on Lycra and imported Labradoodles."

Philippa Lye appears at morning drop-off "nearly six feet tall... those cheekbones, unconciliatory in the extreme; the arrogant jutting triangle of a nose." She has a past and she drinks; her husband is an old-money investment banker. After a crippling miscarriage, Gwen Hogan has only one child and gave up a career as a Ph.D. chemist to raise her daughter. Her husband is a prosecutor for the U.S. Attorney who lives to send slippery billionaires to prison, but frequently wonders if he shouldn't go white-shoe private for the big bucks. Minnie Curtis ("shining hair of the darkest near-black brown and wonderfully white, perfect teeth... a little cheesy, the way she was made up, pink blush and glossy lips, but it worked") married up to an ambitious, sleazy hedge fund magnate--a bottom-feeder, a "benthic organism trying to transform himself into a top-level carnivore."

The plot, to the extent there is one, heats up when Gwen's husband's office launches an investigation implicating Philippa's and Minnie's husbands. Marriages and friendships are tested as Macy dexterously reveals the flesh and blood beneath her characters' branded fashions. Mrs. is a well-observed story of the precarious social network of today's wealthy--a strong addition to the large catalogue of fiction about those with privilege and pedigree. --Bruce Jacobs, founding partner, Watermark Books & Cafe, Wichita, Kan.