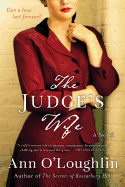 Grace Moran, married off by her Aunt Violet to the older, remote Judge Moran, is enthralled when she meets Dr. Vikram Fernandes, who is from India, at a Dublin hospital. But it's the 1950s, and prejudice runs deep. People are shocked by Grace and Vikrim's friendship, especially when that friendship turns to love and she becomes pregnant.

Aunt Violet, determined that society will not find out, sets to work, and after the birth, she convinces Moran to have Grace committed to an asylum, telling her that her baby died. Violet tells Vikram that Grace died in childbirth, and he returns to India, brokenhearted.

Thirty years later, Emma Moran returns home to Ireland after the death of her father, only to find shocking revelations left and right. Learning that her mother didn't die in childbirth, but was committed to an asylum, is completely horrifying, and that's only the beginning as Judge Moran's will reveals even more surprises.

Ann O'Loughlin (The Secrets of Roscarbury Hall) has created a complex and interesting world in The Judge's Wife. Flashing back and forth between Grace and Vikram's relationship in the 1950s, and Emma's and Vikram's lives in the 1980s, O'Loughlin shows how drastically the world changed in those three decades. She slowly reveals more information, keeping the reader guessing about Grace's ultimate fate. The perfect blend of romance and intrigue, The Judge's Wife is a satisfying historical novel, and a fine way to spend an afternoon. --Jessica Howard, bookseller at Bookmans, Tucson, Ariz.