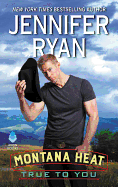 Determined to put the notorious drug cartel enforcer "Iceman" behind bars, the DEA's Dawson King goes undercover--spending five months in prison. When King (now known as "Flash" because of his fast reflexes in prison brawls) is released on good behavior, he approaches Cara Potter, the Iceman's daughter. Cara purportedly has nothing to do with the drug trade and often hires felons, helping them get back on their feet.

Flash gets a job in her coffee shop and soon realizes that Cara is as innocent as she appears to be. Her life has been plagued by violence as a result of her father's occupation, leaving her suspicious of everyone, and Flash wants to do nothing more than convince Cara that he's being honest about his burgeoning feelings for her. But she doesn't even know his real name--and he's trying to find evidence to arrest her father. Can Flash get Cara to trust him and fulfill his DEA mission to take down Iceman's cartel at the same time?

Jennifer Ryan (Her Renegade Rancher, His Cowboy Heart) continues the Montana Heat saga with True to You. With a dramatic plot, lots of action and a full cast of characters, this installment is a quick and sexy read. Cara and Flash's complicated relationship gets even trickier when other bad guys come onto the scene, keeping the reader guessing about the denouement. Romantic suspense readers are sure to love this latest fast-paced novel. --Jessica Howard, bookseller at Bookmans, Tucson, Ariz.