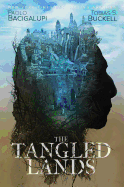 The Tangled Lands by Paolo Bacigalupi (The Water Knife) and Tobias S. Buckell (Arctic Rising) is a multi-layered fantasy about the economic and environmental devastation wrought by magic. Four connected novellas show acts of rebellion toward tyrants manipulating a geopolitical crisis.

In and around the city of Khaim, overuse of magic created an environmental catastrophe. Bramble, a plant that buries everything, puts those who touch it into a deep and ultimately deadly "bramble-kissed" coma, and use of magic releases a toxin that causes it to spread with horrifying speed. In this world, even a benign spell--soothing an infant's colic, for example--is outlawed. Soldiers kill anyone who uses magic. Against this backdrop, Duke Malabaz exploits an alchemist who has discovered how to destroy bramble, allowing magic to be "a monopoly held tight in the fist of the man who lived far above them all."

The resistance forms with Tana, who with the fury of "angry, venomous mothers" forms a woman's army to search for kidnapped children; Sofija, a blacksmith's daughter whose defiance and strength help her survive; and Mop, a boy who desperately tries to save his bramble-kissed sister from sexual exploitation.

Bacigalupi and Buckell have individually explored the effect of mankind's disastrous relationship with the environment in other speculative novels. Together in The Tangled Lands, they create a damaged world that is frightening in its implications for human suffering. Readers looking for dystopian fantasy with strong female characters will devour the stories of this world and eagerly wait for more. --Cindy Pauldine, bookseller, the river's end bookstore, Oswego, N.Y.