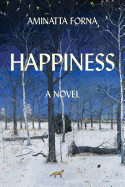 Happiness, Aminatta Forna's fourth novel, a follow-up to The Hired Man, is about love, trauma, immigration and the conflict between nature and civilization, among other things. The plot is built around the chance meeting of two outsiders in London: Jean, an American studying urban foxes, and Attila, a Ghanaian psychiatrist in the city to give a keynote speech on trauma. Through their repeated meetings--Attila takes the position that coincidences "happen far too often to be considered extraordinary"--Jean and Attila gradually become insinuated in each other's lives.

The search for a missing young boy becomes the pretext for a variety of characters to bump into each other, from Jean and Attila to a lot of hotel doormen, security guards and even one man moonlighting as a "living statue." Many of the characters are immigrants--Forna pays particular attention to West African transplants to London. It would be reductive to refer to Happiness as a love story, but the bond that slowly develops between Jean and Attila is an obvious highlight.

Jean and her urban foxes struggle to adapt to abnormal circumstances. Her fierce love of animals and nature puts her in conflict with urban dwellers who fear and hate the wild creatures that intrude on their orderly world. Jean's wide-ranging empathy lies at odds with entire communities--like London--and even those close to her, as in her previous marriage. Happiness observes them building a new community, a found family composed of oddballs and outsiders. Forna's novel is unusual and engaging, heartfelt and ambitiously crafted. --Hank Stephenson, bookseller, Flyleaf Books, Chapel Hill, N.C.