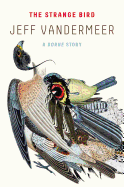 Jeff Vandermeer (the Southern Reach Trilogy) brings a delicate lyricism to science fiction. His characters fly over vast reaches of destroyed landscape and recalibrate themselves at a molecular level, but to read his work feels more like delving into something by James Joyce than Ray Bradbury. The Strange Bird, a novella taking place in the universe of his novel Borne, is no exception. Its lyrical powers make it worthy of existence, even as it needs its predecessor for stability.

Born (or perhaps more fittingly: created) in a lab with other animals, the Strange Bird is imbued with myriad powers and an internal compass that points her toward an unknown destination. Escaping from the lab, she takes to the sky to find what she believes will be her home, discovering landscapes of devastation after a human-caused (but otherwise unexplained) apocalypse. Attacked and captured by a survivor, she witnesses firsthand how her captor's trauma forces him to relive the terror of his life before the cataclysm. Eventually she lands in the middle of the events of Borne, witnessing it as (literally) an adornment of the Magician, one of the book's villains.

The Strange Bird is at its best before it runs into the tangential plotline; a quiet and elegiac look at what humans do to their surroundings and the lies they tell themselves to survive. Once the characters from Borne enter, The Strange Bird essentially becomes a sequel (although a highly interesting and moving one). This tender little novella shows Vandermeer's skills in prose and character. --Noah Cruickshank, adult engagement manager, the Field Museum, Chicago, Ill.