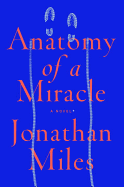 Cameron Harris, the protagonist of Jonathan Miles's third novel (after Dear American Airlines and Want Not), is in need of a miracle. And Anatomy of a Miracle is the funny, clever, moving story of this Biloxi, Miss., vet who returns from Afghanistan paralyzed from the waist down.

On a trip to the Biz-E-Bee convenience store for cigarettes and beer under the watchful eye of his mouthy sister, Tanya, Cameron's four years in a wheelchair come to an abrupt end when a surge from within propels him upright and walking. Told in a long-journalism format, Anatomy of a Miracle reconstructs this inexplicable medical event from the before to the more bizarre after. It is a remarkable combination of medical mystery, satire and war story.

An odd place for a miracle, the rundown Mississippi Gulf resort town of Biloxi "doesn't mind the smell of fish guts." When word of Cameron's recovery spreads, the town is swarmed with religious kooks and pilgrims. While Miles can be canny and hilarious about the absurdities of all this miracle whoop-de-do, he also steps back to explore what it might mean if one's life were suddenly changed from hopeless dependency to the freedom to be "normal" again. Although he gets a miracle he never expected, Cameron finds that a return to normalcy is not all it's cracked up to be. After the laughs subside, Anatomy of a Miracle leaves one pondering all the "what ifs" in life. --Bruce Jacobs, founding partner, Watermark Books & Cafe, Wichita, Kan.