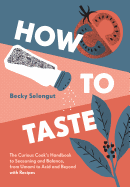 In How to Taste, chef and cooking teacher Becky Selengut offers a guide to balancing flavors and transforming good--and even bad--food to great.

"If you've ever made a disaster of a dinner, been mystified by what the term 'season to taste' means, and had no bloody idea what went sideways," Selengut writes, "this book is for you." She walks the reader through the ways flavors interact and how to adjust them, and each of the 12 chapters covers one element of taste, including salt, sweet, aromatics, bite and texture. She explains how to tell when a dish needs something more and, miraculously, how to fix food that's overly salted, spiced, fatty or cloying. Every chapter concludes with an experiment to highlight her points in a real kitchen, resulting in practical understanding without wasting time or food--you're left with a carrot salad, toasted fennel or lightly sweetened cup of coffee. She also includes additional recipes and video links to see her methods in practice.

Selengut's irreverent and humorous voice makes How to Taste a joy to read. She explains food science without being esoteric, and recognizes that flavor is influenced by the eater's culture, memory, age, genetics and other factors. She encourages readers to taste intentionally and trust their senses in order to be in the moment, enjoy food more and make cooking less of a chore.
Novices and accomplished home cooks alike will find something helpful, perhaps game-changing, in How to Taste. Read it all the way through, then keep it in your kitchen as a quick reference. --Katy Hershberger, freelance writer, bookseller and publicist