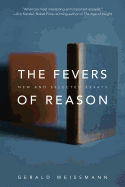 Essayist Gerald Weissmann has a storied career as a physician, so it's no surprise that The Fevers of Reason, a collection of new and previously published works, focuses on the moments where art and science intersect. The pieces expertly hopscotch across all sorts of topics--rheumatology, Viennese art in the early 20th century, the genesis of Sherlock Holmes, RNA sequencing. Throughout the book, Weissmann's humanist, sometimes sardonic, voice binds together disparate strands to show how all human endeavor is linked in one way or another.

There are particular subjects that are close to Weissmann's heart, and appear more than once; the Nobel Prize and the percentage of American winners who were immigrants is one. He makes strong cases for immigration throughout the book, showing how welcoming the refugees who fled Nazism created medical breakthroughs in the United States. But Weissmann also takes time to focus on unheralded women in medicine, especially Elizabeth Blackwell, the first woman to graduate from a U.S. medical school. "Dr. Blackwell Returns from London" charts her career, showing how she paved the way for generations of women physicians to come. Weissmann clearly sees how history obfuscates the work of women, people of color and immigrants, and tries to alter that.

While he can lapse into jargon on occasion, Weissmann's prose is usually polished and funny, and anyone with an interest in American scientific or literary history will enjoy this collection, especially if they're already medically inclined. --Noah Cruickshank, adult engagement manager, the Field Museum, Chicago, Ill.