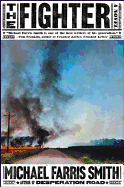 The Fighter by Michael Farris Smith (Rivers and Desperation Road) is the story of the orphan Jack Boucher. His long road of institutions and foster homes ends on the 200 acres of the never-married Maryann, who raises him with the only love he's ever known. With few skills besides willfulness and a strong physique, Jack leaves at 17. He aims to make his way as a bare-knuckle cage fighter on the backwoods circuit filled with "men who killed dogs with other dogs." They are "a suffocating mass of the drunk and disturbed."

After some years of success, Jack sustains a massive concussion and, after self-medication with pills and booze, his battered body finally gives out. In his 40s, he drags himself back to Clarksdale to see Maryann as she lies with advanced dementia in a nursing home. Her multigenerational home is in foreclosure, and Jack owes $12,000 to the vicious local loan shark Big Momma Sweet. Good luck at a Natchez casino brings him enough to cover his nut, but bad luck rears its head when his truck crashes and the money disappears while he stumbles to get help.

Winner of the 2014 Mississippi Author Award and born in Mississippi to a Baptist minister, Smith writes with the Delta river silt and cotton fields in his blood. In the tradition of the Mississippi literature like Faulkner and Larry Brown, The Fighter is rich in character and landscape but, more insidiously, in the hard life and meager hopes of those who live there. --Bruce Jacobs, founding partner, Watermark Books & Cafe, Wichita, Kan.