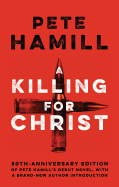 "Setting down a fiddle and picking up a cello" is how acclaimed journalist and writer Pete Hamill (A Drinking Life) describes the difference between his early journalism and this first novel, A Killing for Christ, rereleased to mark the 50th year of its publication. Hamill adds a foreword to this edition, providing context for a remarkably mature debut novel.

The story takes place in Rome, from Holy Thursday to Easter Sunday. Malloy is an American, a Vietnam vet and a faithless priest. "Perhaps he had come to understand that sin was a celebration," he thinks. He clerks at the Vatican to remove himself from pastoral duties. At night he drives to an apartment by the sea, where his mistress, Franca, waits for him. Meanwhile, a group of cardinals who oppose the politics of the current pope are conspiring to assassinate him. They employ Harwell, a malevolent young man with a rifle, and Rail, a mysterious co-conspirator, to carry out the assassination in front of the huge Easter Sunday audience. When Franca becomes involved with the conspirators, and a man is killed, Malloy trades his fatalism for outrage to become the savior he does not believe in.

A Killing for Christ is steeped in noir sensibility: bleak, sexual and cynical. The disillusionment in each character calls into question the motives of every social entity including, most crucially, religion. This is a tense, page-turning thriller that is as pertinent today as it was when it was first published. --Cindy Pauldine, bookseller, the river's end bookstore, Oswego, N.Y.