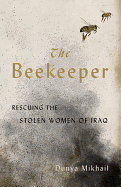 Dunya Mikhail, in The Beekeeper: Saving the Stolen Women of Iraq, gives voice to victimized women and one daring rescuer who hope that "people will know the truth about what's happening."

Since 2014, ISIS, called Daesh in Iraq, has terrorized the Yazidi area of northern Iraq by killing men who will not convert to Islam and kidnapping women and children. Those enslaved are raped, tortured, forced into the sex trade and even work with chemical weapons. The unlikely hero of this story is Abdallah, a beekeeper in Iraq until he organized a network of rescuers because "[o]ur mountain has melted from the tears and beseeching of the families." Mikhail, now a United States citizen, is a journalist and poet from the Yazidi area. The book is a series of heart-wrenching conversations between Mikhail and several Yazidi women, interspersed with her reminisces of the brutal world that replaced the Iraq of her childhood.

Abdallah's network consists of often unnoticed farmers, taxi drivers or shopkeepers. His ability to find ransom, plan escape routes across countries and remain calm in the face of terrorists is striking. The fearlessness of the captives who trust those they don't know in order to escape is a testament to the will to survive. As Abdallah says, "Hope is our daily bread."

Headlines cannot do justice to the suffering of victimized groups across the globe. As the surviving Yazidis bear witness, the very least the rest of the world can do is listen. --Cindy Pauldine, bookseller, the river's end bookstore, Oswego, N.Y.