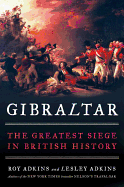 Gibraltar, the small territory on the coast of Spain, has been in British hands for hundreds of years, and remains a source of tension between the two nations. Gibraltar, by historians Roy and Lesley Adkins, traces the history of that strain, focusing on the years 1779 to 1783, when the forces of Spain and France laid siege to the British garrison stationed there. One of the longest in modern history, the siege is a story of courage and ingenuity, on both sides of the war.

Using dispatches, diaries, newspaper clippings and other first-hand accounts, the Adkinses put the thoughts and feelings of the participants of the siege front and center, turning what could be a typical dry history of war into one filled with small, tender moments. Gibraltar housed many families, and the book wisely focuses on the plight of the women and children as their homes were destroyed by Spanish artillery. Matters of race and class are always in the background, and the authors call out the injustices of the British Empire and class system.

But, most importantly, the siege of Gibraltar is a riveting story, where a small group of British soldiers and sailors managed to outlast a massive campaign by Spain and France. The Adkinses lean into the terrors and triumphs of the siege, making sure the reader is swept up in each twist and turn of the battle. --Noah Cruickshank, adult engagement manager, the Field Museum, Chicago, Ill.