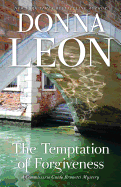 The Temptation of Forgiveness, the 27th novel in the Commissario Guido Brunetti series, is another compelling look at life in modern Venice. After more than 20 years on the Venetian police force, Brunetti is inured to all forms of graft and corruption, but this time even he will be surprised.

Professoressa Crosera, a university colleague of Brunetti's wife, Paola, comes to tell him that she suspects her son is doing drugs. The commissario is at a loss. Crosera refuses to tell him who she suspects is selling the drugs at her son's exclusive school, so Brunetti puts it from his mind until a week later, when the woman's husband, Tullio Gasparini, is found at the bottom of a bridge with his head smashed in.

Is there any way Gasparini could have fallen accidentally? Could it have been an attack related to the suspicion of drugs? Brunetti and his colleagues, including Commissaria Claudia Griffoni, begin to put out gentle feelers, discovering an odd connection between Gasparini and a potential fraud ring.

With underlying themes of parental concern and violence against women, The Temptation of Forgiveness is an appropriate novel in the wake of the #metoo movement, and in a world where many parents fear the terrible things that could engulf their children. The philosophical debates between Brunetti and Griffoni lend a gentle thoughtfulness to the novel, which is placed in historical context by the ancient Greeks and Romans that Brunetti loves to read. --Jessica Howard, bookseller at Bookmans, Tucson, Ariz.